10. Algiers, Merleyn, 21 feb
I was really impressed by the Algiers album and when performing live they also prove to be excellent musicians. Also the music venue Merleyn is great because it's so small and so close to the artists.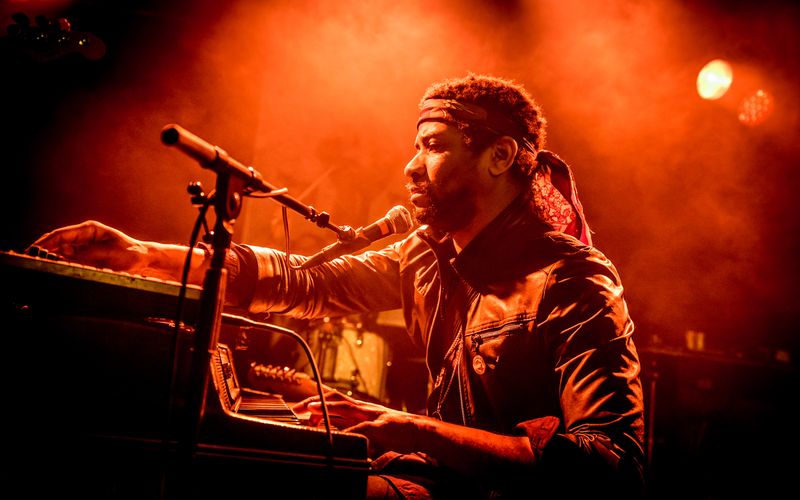 9. Doe Maar, Doornroosje, 12 oct
This band started 40 years ago, but this is my first time to see Doe Maar and the two hour set they played was absolutely amazing. Despite the quite loud and drunk audience, this was a real treat.
8. Bon Iver, Vorst Nationaal (Belgium), 25 oct
After the cancelled tour in 2017, we were given another chance to see Bon Iver live. This was undoubtedly the longest travel I have ever made for visiting a concert and I do not regret it: The show was impressive both in music and lights.
7. For I Am King, Fortarock, 2 jun
Fortarock returns after a year absence with an impressive line up (Nightwish, Parkway Drive, Opeth, Avatar, Arch Enemy, Body Count, Meshuggah, Alestorm, and more). But the most loud performance comes from the smallest band on the bill: For I Am King. This explosion of energy combined with the funny gestures from Alma Alizadeh (playing the mini guitar, improvised mustache) led to a great ambiance in the crowd that is going wild on this theater stage.
6. Superorganism, Doornroosje, 6 nov
Despite this show being way too short (40 minutes only!) it was powerful. There is a lot going on at a Superorganism show. Their cheerful weird songs with nagging vocals is addictive and live it is enforced by funny dancing, peculiar objects and amazing visuals. It's all good.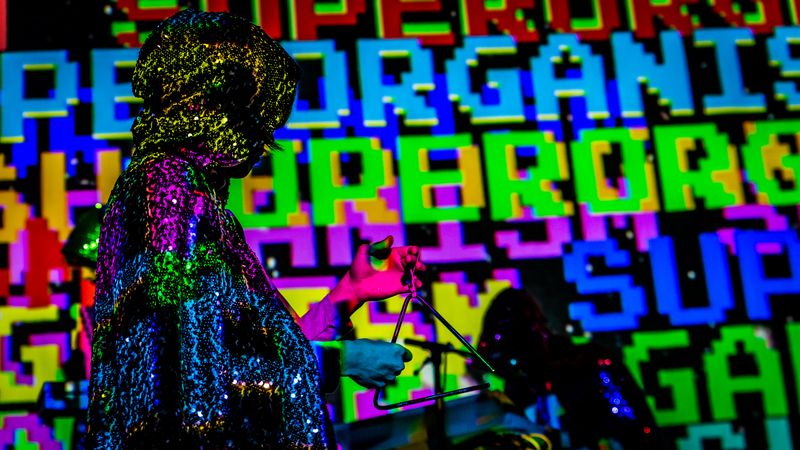 5. Guns N Roses, Goffertpark, 4 jul
Guns N Roses again? Yes. Admittedly the show was almost identical as last year, so there were little surprises. Also, Angus Young did not make a guest appearance this time. Still it was memorable perhaps also because this time we had places in the golden circle.
4. Lagwagon, Luxorlive, 25 aug
This brings me back to the nineties when I was really into skate punk. Lagwagon plays in Arnhem, the only show in the Netherlands this tour and it's not Amsterdam. They play their album "Let's talk about feelings" and some other songs. Luxorlive is a great music venue and Lagwagon makes me feel 20 years younger, especially when they end with Razorburn.
3. Courtney Barnett, Tivoli Vredenburg, 31 may
Courtney Barnett presents her new album "Tell me how you really feel" quite literally. First she performs the new album entirely. Then there is a fair share of her older work that gets the party really started. When they finish with "Pedestrian at Best" I do something I never do at concerts: I take out my ear plugs. Courtney Barnett is rock and roll and I can't get enough of it.
2. Nick Cave & The Bad Seeds, Down The Rabbit Hole, 1 jul
Nick Cave is the headliner of this year's Down The Rabbit Hole festival. I am not sure what to expect and so we take it easy, get some food for the concert and then walk to the main stage. It is rather crowded already. And now I understand why people want to be so close to the stage: The interaction that Nick Cave has with his fans is truly amazing. His humor is dark, yet funny: He complains the sun is still up and that is fucking terrifying. A woman hands her handkerchief to him, he sneezes into it and hands it back. The songs hit me even at the end of the field. Next time he tours I will be there and I will make sure I am on the first row and I already know that will be my best concert of that year.
1. De Jeugd van Tegenwoordig, Merleyn, 23 feb
De Jeugd van Tegenwoordig plays concerts all the time. And they throw a party every time. That is why they announced a small venue club tour to promote their album "Leuk" (including Merleyn) I had to go there. They only sold tickets at De Waaghals, the local music store and we had to queue for over an hour in the winter cold. But it was totally worth it. I said it before and I will say it again, small venues are awesome. And it is even greater if famous artists play them. This was an epic hiphop show, a two hour mosh pit, an alcohol give away party, the absolute best way to experience De Jeugd van Tegenwoordig.
Complete list
Susto (30 jan, Merleyn)

Jade Bird, Jake Bugg (04 feb, Doornroosje)
Dubbeez (10 feb, Merleyn)
Trial, Portrait, RAM (13 feb, Merleyn)
General Roots, Hollie Cook (20 feb, Merleyn)
Algiers (21 feb, Merleyn)
De Jeugd van Tegenwoordig (23 feb, Merleyn)

Memphis Maniacs (2 mar, Doornroosje)
Man of Moon, Django Django (6 mar, Doornroosje)
Le Butcherettes, Death From Above, At The Drive-In (013)
Fleddy Melculy (23 mar, Doornroosje)
Jay Way, Rilan & The Bombardiers (30 mar, Merleyn)

Irreversible Entanglements (6 apr, Merleyn)
You Should Get To Know Us, De Naakte Waarheid, We Are Hunters (10 apr, Merleyn)
Dillon (20 apr, Doornroosje)
Taveneer, Robin Borneman, Nana Adjoa, LUWTEN, EUT, Birth of Joy, blackwave., Hannah Williams & The Affirmations, FATA BOOM, Too Many Zooz, Canshaker Pi (27 apr, Oranjepop)

Joost, Akua Naru, Ares, Arp Frique & Family, Diron Animal, Jack Parow (5 may, Bevrijdingsfestival Nijmegen)
Selah Sue (10 may, De Vereeniging)
Kamashi Washington (28 may, Doornroosje)
INK, Marilyn Manson (30 may, Philharmonie Haarlem)
Loose Tooth, Courtney Barnett (31 may, TivoliVredenburg)

Body Count, Watain, Arch Enemy, Kreator, Parkway Drive (1 jun, Fortarock)
VUUR, Tyr, Dragonforce, Igorrr, Avatar, For I Am King, Alestorm, Satyricon, Opeth, Meshuggah, Nightwish (2 jun, Fortarock)
Crisix, Body Count (13 jun, Doornroosje)
In This Moment (18 jun, 013)
De Jeugd van Tegenwoordig, Dave Budha, Leon Bridges, Black Rebel Motorcycle Club, Jorja Smith, MGMT, IAMDDB (29 jun, Down The Rabbit Hole)
Yungblud, Muyayo Rif, First Aid Kit, Sampha, IDLES (30 jun, Down The Rabbit Hole)

Wende, Breeders, Jungle, Franz Ferdinand, Nick Cave & The Bad Seeds (1 jul, Down The Rabbit Hole)
Volbeat, Guns N Roses (4 jul, Goffertpark)
Hoken met de Heinoos, La Pegatina, Feuerengel (12 jul, Zwarte Cross)
Wannabeastar, Volbeat, Andrew Tosh, Brutus (13 jul, Zwarte Cross)
Bokkers, Bootleg Betty, Navarone, Dirty Daddies, Ploegendienst (14 jul, Zwarte Cross)
Ronnie Flex & Deuxperience, Gogol Bordello, Fresku, De Likt (15 jul, Zwarte Cross)
Parquet Courts (16 jul, Valkhoffestival)
Linde Schone, Bulow, Tune-Yards (17 jul, Valkhoffestival)
Cartiez, Durand Jones & The Indications, De Likt (18 jul, Valkhoffestival)
Coco Mamas (19 jul, Stevenskerk Vierdaagsefeesten)
Stippenlift, Baloji (19 jul, Valkhoffestival)

Wulf, de Boetners, Joost, Laurence Jones, The Charm The Fury, Wende, K's Choice, MY BABY (11 aug, Huntenpop)
Mahalia (18 aug, Doornroosje) Joe McMahon, Not On Tour, Lagwagon (24 aug, Luxorlive)

Bad Sounds (26 sep, Merleyn)

Ady Suleiman (10 oct, Merleyn
Doe Maar (12 oct, Doornroosje)
Dub FX (19 oct, Doornroosje)
Bon Iver (25 oct, Vorst Nationaal, Brussel (BE))

Pi Ja Ma, Superorganism (6 nov, Doornroosje)
Orla Gartland, Hudson Taylor (7 nov, Doornroosje)
Escape-ism (21 nov, Merleyn)

Faces On TV (13 dec, Merleyn)
Clean Pete - Kerstshow (23 dec, Doornroosje)